Tip #8 How to Work Faster & Smarter in a Blast Suit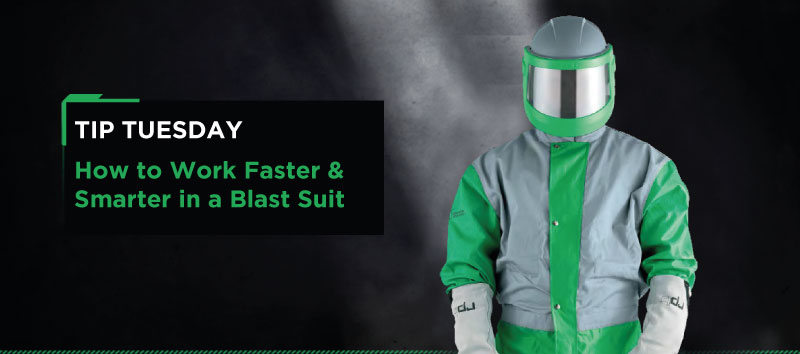 Blasting is often a dirty and dangerous environment and the blast suit is an essential part of any blasters protective kit. A blast suit that provides ultimate protection and comfort to the operator, while advancing your safety and increasing your productivity is something that everyone wants. Traditionally, maximum protection has meant the use of heavy leather blast suits, which continue to be a popular staple within the majority of blasters protective kit. However, many blasting environments can and would benefit from a lighter and more breathable blast suit. Here at RS Blastech, we have introduced this to our product range in the form of a nylon/cotton lightweight, heavy duty blast suit which offers maximum protection.
Working smarter is achieved by incorporating Kevlar stitching to ensure greater durability and prevents the suit from falling apart at the seams, which traditional leather blast suits tend to do. Working faster is achieved through the use of lightweight materials which are much more flexible and comfortable than traditional leather. The blast suit design also features a breathable cotton back, which has been designed to keep the operator cool. Additionally, a robust nylon zipper with protective cover, heavy duty nylon for maximum protection to the front of your body and arms and optional knee padding gives the blaster unbeatable comfort and protection. To complement the blast suit, we'd recommend you pair it with heavy duty double palmed leather gloves with kevlar stitching for additional durability.
Finally, the cost of these blast suits are very favourable against the traditional leather blast suits, helping keep costs to a minimum whilst increasing worker productivity levels.
Get in touch with the RS Blastech Team today for further information or trials.